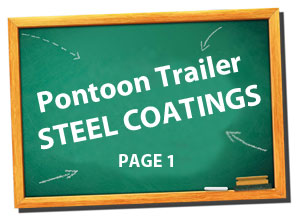 HOME | 1 | 2 |
Steel Coating: Painting, Powder-Coating, and Galvanizing
Few pontoon trailer manufacturers provide a warranty on the finish of their trailers. This doesn't mean the trailer doesn't have a good paint job; it's just that the consumer can ruin the finish even on the best trailer. Travel down a gravel road too fast and you'll chip almost any type of coating. Take a painted or even powder coated trailer to salt water and you'll ruin the steel coating. Haul a trailer for an extended period on roads treated with rock salt and you'll damage the finish.

The coating on a pontoon trailer, assuming you have a good finish to begin with, is a maintenance issue. When a customer inquires if the wheel bearings are greased or the tires properly inflated the answer should be yes, but you will have to grease them later and you should check the pressure occasionally. The finish on pontoon trailers is a bit like grease in bearings or tire pressure. It requires some attention. How the finish stands up on a new trailer depends on the original coating. If it's a good quality finish, it's up to the trailer's owner to keep it looking new. Like wheel bearings and tire pressure it's a good idea to check the finish on a new trailer at the time you take delivery. You'll be able to tell a good paint job from a poor one. If you start with a good quality finish, a little touch up now and then will keep it looking new for years. The best thing you can do for the finish of your new trailer is to apply a protective coat of automotive wax to the frame. Just like on your car, the paint protects the steel and the wax protects the paint.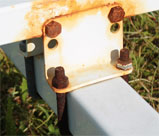 There are friction points on pontoon trailers. Where the bunk brackets are bolted to the frame, where the winch stand is bolted to the tongue, where the tongue jack is attached, etc. Lug nuts will often chaff the painted finish on the white tire rims. Surfaces in contact with each other will wear away paint (or thin galvanizing) and over time you'll see rust. Rusty hardware is an ongoing problem. Most trailer manufacturers use cadmium plated hardware. It's not stainless but in general it's not prone to rusting in normal use (not salt water). There seems to be no solution for rusty hardware. It is a problem on all trailers.

Many pontoon trailers are black. Black is a "soft" color. That means that a generic can of black touch up paint can usually match most black trailer finishes. Touching up rust spots as you see them will keep your trailer looking new for years. Some pontoon trailers have custom colors with beautiful deep gloss finishes, but be prepared to keep a matching can of custom color touch up paint on hand.

Below you can see numerous brands of trailers with rust. Some have state of the art powder-coat finishes and the coating on these brands were the best available, at the time they were new. Others are poorly painted and you'll see that (if you look) on the day you take delivery on your new trailer. A trailer with a good strong modern powder coat finish is desirable but like wheel bearings or tires, the long term finish on a pontoon trailer is a maintenance issue.

Shore Land'r and Trailmaster generally have excellent finishes, but you can see what happens if a good paint job is neglected.

Scratches on this E Z Loader could be easily touched up. The rust on the Bear was probably caused by a tongue jack being moved. It would have been a simple touch up at the time but will now require sanding and priming.

Loose Chains "beat" the paint off The powder coat on this trailer seems to have just chipped off.
this frame.

Blemishes in steel (small rough spots) plague all trailer builders. Few manufacturers prep the steel. Many don't even prime it. Ideally the individual cutting the steel parts would notice rough spots. Before welding, a quick check of the surface would allow the manufacturer to put rough steel on the bottom or inside of the frame. Before coating a few minutes with a grinding wheel or sandpaper would prevent this. But it's a common problem on all steel trailers. Surface blemishes in steel affect both galvanizing and powder coating. Since most trailer manufacturers do not cover the finish of the trailer, the prevailing attitude of many manufacturers seems to be that it's not their problem. When taking delivery of a new pontoon trailer, running your hand over the top of the frame will detect any rough spots beneath the steel. You may not be able to see them when new but rust spots will appear after a short time.

This trailer has scratches on the top of the front frame, probably from people stepping on the trailer. A simple touch up would prevent rusting.
HOME | 1 | 2 |
PONTOON TRAILERS 101 - FOR EVERYTHING YOU NEED TO KNOW ABOUT PONTOON BOAT TRAILERS